June 13, 2018
Welcome to the NursingCAS Dispatch – a monthly newsletter intended to keep you up to date with current happenings at NursingCAS. The newsletter will feature:
---
 User Updates
New Website and Rebrand Coming in August!
We are excited to announce that NursingCAS is in the process of updating our digital presence and redesigning our website! In August we will launch a new website with enhanced content, improved search engine optimization (SEO), and improved accessibility.
Highlights include:
New colors and logo
A comprehensive and interactive Resource Library
Improved search functionality
Why are we changing?
Since launching in 2010,NursingCAS has had the same logo and branding. Now, with 250 participating schools and counting, we decided it was time to make a change. As we approach our 10 year anniversary, we will have a modern logo and website that can launch us into the future with confidence as we continue to grow.
Please note that the new NursingCAS.org will serve both schools and applicants. MyNursingCAS.org will be retired. We will do our utmost to make the transition to the new website as smooth as possible.  The URLs for the NursingCAS application login and WebAdMIT will not change.
The URL for NursingCAS, www.nursingcas.org, will remain the same. And the interface for the application will not change other than incorporating the updated logo. Stay tuned for further updates regarding the NursingCAS redesign.
Please contact Rachel Stayton with questions about the new website.
---
Welcome New Schools
Please join us in welcoming our newest schools:
---
Applicant Portal Enhancements
The Red Badge Near "Submit Application" Appears Only When Ready to Submit
Previously, a red badge appeared in the "Submit Application" tab even before an application is ready to be submitted. With this enhancement, applicants only see this badge when they have complete designation(s) ready to submit. This change will help reduce applicant confusion.

---
  By the Numbers
The 2018-2019 NursingCAS cycle launches on August 15th, only 63 days from now. A detailed timeline and FAQs is available for your convenience.
---
 NursingCAS Know-How
What You Need to Know for Configuration 2018-2019
The 2018-2019 Configuration Tool opened on June 4th. All 2018-2019 configurations are due by July 26th to ensure the NursingCAS team has enough time to review your programs prior to the August 15th launch. New this year you will login to the WebAdMIT PreLaunch site in order to configure programs. Prelaunch is a "staging" environment that allows you to configure programs for the new cycle without impacting the current cycle. Prelaunch is similar to the sandbox environment in that it is not connected to the live environment ("production"). Learn more about PreLaunch here.
Note: only primary contacts and/or WebAdMIT users who are responsible for setting up programs have access to the configuration tool in the WebAdMIT PreLaunch site. Contact Ann or Joe from the account management team with questions or to gain access.
Your programs have been rolled over from last cycle so you can edit the existing configuration. You do not need to create new programs unless you are planning to add additional options. Please update what is there. If programs appear that you do not plan to open in the 2018-2019 cycle, please delete them.
Please ensure you have completed the following before submitting your programs for review:
To submit your programs for review, click the home icon, scroll down to Program Settings, and click Submit for Review.
---
Enhancements for the 2018-2019 Cycle
Codes Created in the Questions Section of the Configuration Portal Are Now Available in WebAdMIT
Configuration Portal users now have the ability to establish codes to pair with the answers to multiple choice Program Questions. This can be done by enabling the Export Code option when creating a new question, and entering your desired codes (see screenshot). The Export Code feature may be useful for programs needing to import WebAdMIT data into another system. This option can be used to store internal codes along with (or instead of) the full text of the applicant's selected answer to a multiple choice question. These codes are now available to export from within WebAdMIT.
Upload Answer Values for Multiple Choice Questions through the Configuration Portal
To reduce the amount of manual work required when creating custom questions, this enhancement gives Configuration Portal users the ability to upload Answer Values and Export Codes for multiple choice questions.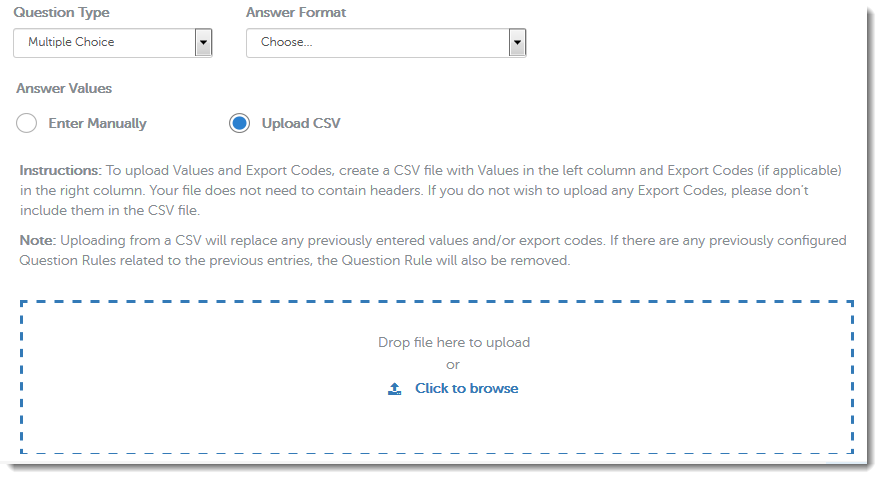 ---
 Social Beat
New Student Demographics: Recruiting, Retaining and Graduating a Diverse Student Body
Join Inside Higher Ed editors Scott Jaschik and Doug Lederman on June 27th at 2:00PM ET for this free webinar.
The Two Most Important College-Admissions Criteria Now Mean Less
When so many students have outstanding grades and test scores, schools have to get creative about triaging applicants.
College Admissions: Showing Your Best Side on Social Media
Social media has found its way into almost every part of everyday life. It has even affected college and university admissions.
Private Colleges Give Ground on Student Data
Lobbying group for independent colleges says it's open to expanding federal data collection on student outcomes but remains opposed to student-level database favored by public colleges and many policy makers.